LET'S MAKE SOME NOISE.
Idealnoise is headed up by writer and producer Matt Allaby. Matt works with emerging and established artists right across the electronic music spectrum. He also performs live as 'Allaby' and 'Anaphase'. His previous work with Wennink, 'Dissolve,' was nominated for best produced/engineered record at the London 2016 UMA Awards. Matt's music regularly features in top ten beatport genre release charts and has seen support from DJ's Laurent Garnier, Paul Oakenfold, John Monkman, Captain Hook and John '00 Fleming amongst others.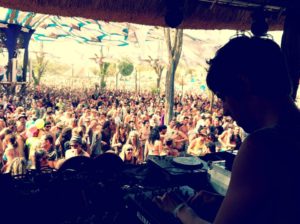 "Superb engineer! Matt did a mix for me for a film score and did a brilliant job even on a tight schedule. He responded quickly, worked though all requests and delivered the project on time. Can't recommend him highly enough."
"Matt did a great mix for me. Really precise and thorough. Super quick turnaround."
"I cannot recommend Matt's music production tutorials highly enough… I progressed faster in 6 months with Matt than I had in the previous 6 years. Stop looking at YouTube videos and overpriced music production courses and get in touch with Matt."
HARDWARE
Custom built PC's with RME and Audient interfaces.
Monitoring - Adam A77X, Yamaha HS50m, Minirig MKII
Processing - Neve 1073 EQ, SSL Fusion, Elektron Analog Heat, TC Electronic Nova Drive, Maxon OD808
Pre-amps - Neve 1073 SPX, Audient iD44, 2 x Cloudlifter CL1
Microphones - Neumann U87, Sure SM7B, sE440a
Neve 1073 Analogue EQ
Vintage and modern instruments and processing from Roland, Arturia, TC Electronic, Korg, ARP.
SOFTWARE
DAW and Editing - Ableton, Studio One, Pro Tools, Wavelab.
Softube
EQ and Dynamics - Wiess Mastering Suite, Tubetech Complete MKII, Chandler Germanium and Zener, Drawmer S73.
Processing - Tape, Marshall Amps.
Instruments - Modular, Model 72 Moog.
Waves - Too many to list
Slate - Everything Bundle
Fabfilter - Q3, Pro-MB, Pro-L3
Brainworx, Softube and more.
ARTISTS WE'VE WORKED WITH
Allaby | Anaphase | Aron Abikzer | Booka Shade | Chagall | Erol Alkan | Girls Aloud | Henri Bergmann | James Arthur | John Monkman | Jessey Jay | Johnny Marr | Loud | Meli | MKII | Paul Unkel | Tristan | The Egg | Pussycat Dolls | Roger Daltry | Shane Ward | Vibrasphere | Wennink | Zen Mechanics
LABELS WE'VE WORKED WITH
Ministry of Sound | InFiné | Blaufield Music | J00F | Beesemyer Music | Black Hole Recordings | Sapiens | Stil Vor Talent | Automatik | Iboga Records | Iboga Tech | Nano Records | Four40 Records | Digital Structures | Vishn